Boutique design firm, meat and potatoes, inc., our partner for over ten years, came to WebSight Design in need of website development. Known for its memorable design creations, the firm provided us with its creative which we then implemented. The beautifully designed site has the look and feel of a full Flash site, but was developed using jQuery with Flash features, such as the video player.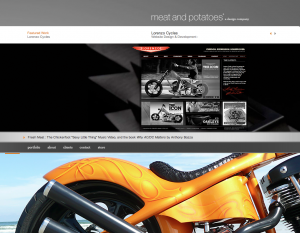 Though Flash is a good choice when building a multimedia heavy site, it was not necessary for meatoes. Using jQuery, we were able to provide the client with many of the benefits of Flash without the extra overhead. Unlike Flash, because jQuery is Javascript based, it does not require a specialized programmer for the build. Also, jQuery currently is compatible with more browsers, especially the mobile versions. This can provide a huge advantage, as Flash is not yet supported by most mobile browsers, including Safari on the iPhone. And, when looking at search engine optimization results, jQuery is the optimal choice. Many of the basics to SEO are missing from Flash making it difficult for the search engines to index these sites. We also provided the client with a site administrator that allows them to keep the website up to date and add new photos and content. Now that the site has launched, the next step will be to initiate an SEO campaign. meat and potatoes, inc. specializes in print, packaging, and advertising design.
Its goal is to create visually stimulating work that is strong and to the point.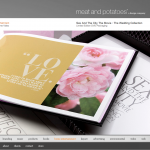 The site features a portfolio section showcasing the company's work. Some of the company's notable clients include Electronic Arts, Sony Pictures Home Entertainment, Capitol Records, and Lorenzo Cycles, with a site launched by WebSight Design as well.