Looking to increase their online presence and become a premier web destination for adventurers trying to book fly fishing trips, Fly Fishing Ranches and Lodges came to WebSight Design for compelling design and robust, rock-solid programming. The new site allows visitors to search for ranches by location or property name.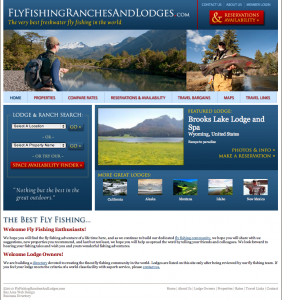 They can also use the custom-designed space availability finder to choose a ranch based on the desired dates of their trip.
Detailed ranch profiles include photos, room rates, lodging descriptions, contact information, and reservation requests, making it easy for users to conduct research on potential ranches and lodges without having to visit multiple websites.
In the backend, a robust content management system permits the client to manage site content and properties, as well as view reservation and listing requests.
Visit FlyFishingRanchesAndLodges.com to check out our latest website.