WebSight Design
is proud to say our client, 
Franklin + Gower
, is currently being featured on Daily Candy. Highlighting the company's newest product, custom made wedding pants for grooms, F+G is mentioned in an
article
offering readers ideas for planning a wedding in Spring 2010.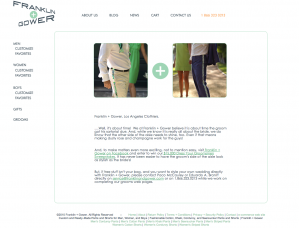 Daily Candy
, a website and newsletter that reaches over 3 million subscribers, informs followers of the latest fashion and lifestyle trends. Strictly editorial based in order to gain the trust of its visitors, it does not give companies the ability to pay for a write-up. The site is dedicated to sharing what's hot and up-and-coming.