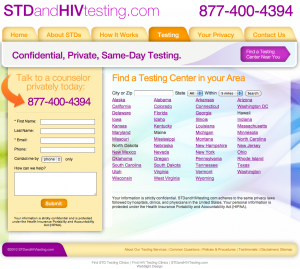 November marks the fifth month of WebSight Design's ongoing marketing relationship with
STDand HIVtesting.com
. Our efforts have resulted in a well-refined PPC campaign, consistently growing revenue, and a 300% increase in organic traffic.
Our
client offers STD and HIV testing in locations all across the United States. Options include herpes tests, gonorrhea tests, chlamydia tests, and syphilis tests. The company has partnered with the nation's leading testing facilities to provide sexually active individuals with easy and confidential ways to get tested. One of the key web site components is the
directory
, which provides visitors with easy access to a directory of STD testing centers. STDandHIVtesting.com is dedicated to promoting safe sexual health through testing and education. In order for these goals to be accomplished, it is imperative that the site has a strong web presence and can be found by individuals searching for STD and HIV testing clinics and information. The search marketing campaign that we have initiated for our client has already begun showing positive results and brings in an increased number of site visitors and conversions. Future plans include ongoing organic search engine optimization and mobile development.