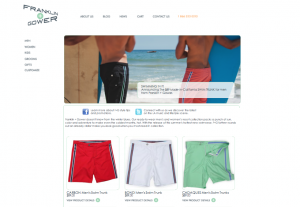 We are proud to present you one of our most creative clients,
Franklin + Gower
. Franklin + Gower is a LA-based fashion brand of custom and ready-made pants, shorts and blazers for men, woman and kids. They offer a large range of products with several variations of colors and fun details. The style is quite classical but the trims make them unique. Pants and shorts for example are decorated with amazing trims along the leg. Bold stripe or subtle pipe, it's up to you. Trims also appear on the inside waistband and seam. Blazers are decorated too with trims on the underside of the collar and pocket flaps and along all of the seams inside the jacket. They also offer you the possibility of creating your own model. With almost 100 different fabrics, everybody can find exactly what he is looking for. That's for sure! Pick a base fabric and then match it with the trim of your choice. The brand is also famous for great fit and incomparable quality. They say that
"Franklin + Gower sizing is as familiar as your favorite pair of Levi's or J. Crews. If you are a 34 in them, you're a 34 in us."
Franklin + Gower products are suitable for all occasions, leisure time, work or the smartest parties. Be classy and cool at the same time, that is the mantra of the brand. Add fun in your clothes to add fun in your life. Their philosophy: smile often and keep positive. They are currently redesigning the site to improve the user experience and brand cohesiveness. We are building it out for them once the design is completed.