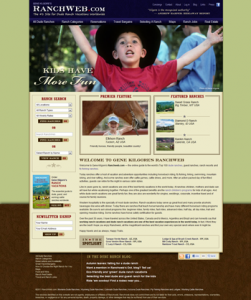 After a year of preparation and collaboration, WebSight Design is very proud to launch the new and improved RanchWeb.com! WSD has conducted a complete overhaul of the entire website design and layout, resulting in a prime example of style and function. In addition to a fresh and more user friendly interface, RanchWeb now offers extended member support and benefits. The new tools offer ranch owners intuitive, helpful services and conveniences as RanchWeb brings them customers from around the world. RanchWeb connects owners of ranch retreats and resorts with vacationers looking for a special getaway. The site provides detailed categorical organization, as well as current discounts available at various ranches. RanchWeb members can now take advantage of:
o More exciting and organized ranch vacation listings o Seamless integration of social media, such as Twitter & Facebook o Improved reporting and management for member listings
With the new organization of the site, visitors can find location-based offerings through RanchWeb's seamless Google Maps integration. Additionally, the incorporation of social media links will allow users to stay up-to-date with their favorite ranches news, deals, and information, as well as improve the ongoing search engine optimization efforts for the overall site. The reporting and listing management has been given a face lift too! Member ranches will be able to easily see how many visitors have landed on their RanchWeb listing and exactly how many of them have clicked through f to their respective ranch websites. RanchWeb is as dedicated as ever to providing top notch ranch vacation and resort services, and Gene Kilgore (Founder of RanchWeb) is excited to offer you these great new tools.