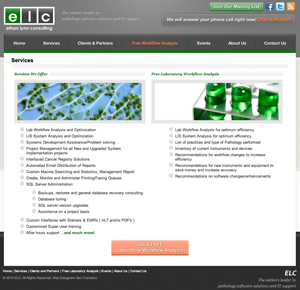 WebSight Design has just launched a brand new site for
Ethan Lynn Consulting
. Ethan Lynn Consulting (ELC) is the nationwide leader in Pathology software solutions and IT support. They provide excellence in service and a commitment to creating and maintaining the best pathology laboratory practices possible. ELC is setting the standard in lean-laboratory workflow, efficiency and accuracy. The technology required to maintain relevance and a competitive advantage within the Pathology laboratory infrastructure is constantly evolving. It is clear that new and improved technologies have the ability to change workflow practices for the better. ELC strives to take IT processes to the next level and make pathology business more profitable. ELC expert consultants evaluate current laboratory workflows, grade best practices and then provide recommendations and solutions that will work. Their knowledge and expertise have the ability to redefine and lead Pathology laboratories toward greater success Visit ELC's site to see upcoming events related to Laboratory Excellence, get a Free Laboratory Analysis,
contact ELC for more information
, or read more about the founder, Ethan Lynn.