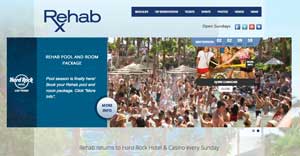 WebSight Design is happy to be working with the
Hard Rock Hotel and Casino in Las Vegas
on two of their popular party sites.
RehabLV
is one of Las Vegas' hottest pool parties. This site has been upgraded and runs on WSD's server and visitors to the site can check out the latest party and celebrity photos, reserve cabanas and see what DJs are coming to town. You can also fill out a form to receive updates on the latest news and events coming to RehabLV. The Hard Rock Hotel and Casino Las Vegas also has one of the most epic New Year celebrations in town. Their
New Year's Absolution
web site is dedicated to just this one day, showcasing amazing photos and videos from the "Absolution: A Symphony of Sounds" bash. Here visitors can join the mailing list and find information on next year's extravaganza - New Year's Weekend 2013!