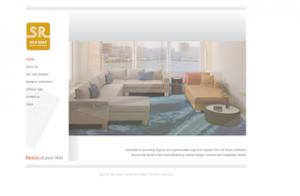 The rotating images on the home page paired with a conservative sidebar and attractive branding reflect the refined character of the business and web site.
Silk Road Carpet and Rugs
is dedicated to providing original and sophisticated rugs and carpets from the finest craftsmen around the world to the most discerning clients. Silk Road has carpets for every sector, from the home to commercial and hospitality clients. At silkroadcarpetandrugs.com users can browse through a detailed display of carpet collections from
Silk Road original designs
that include contemporary, traditional, transitional, geometric and natural styles. Silk Road also offers
antique rugs
through the Nazmiyal Collection, a well established New York antique rug dealer with an extensive and well-researched inventory of unique antique rugs. Browse them on the Silk Road site or access them through the direct link provided. Silk Road also has an array of
designer collections
where visitors can browse carpets and also learn more about each designer. The site displays up-close photographs of the detail and coloring of each carpet so customers can get a true sense of what each design looks like. Click on the
news
tab to read beautifully displayed news articles about the company or fill out an easy-to-use contact form  to get more information.