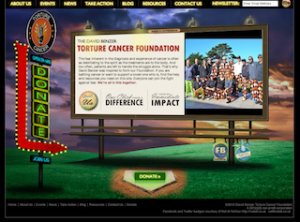 WSD is proud to be a part of
The David Benzer Torture Cancer Foundation's
mission to help people fighting cancer stay strong and hopeful for the long haul. Torture Cancer's new WSD web site provides resources that combat fear and sustain the spirit. From the whimsical design of the home page and its easy navigation, visitors will not only find tools to help stay strong but also access ways to
support a loved one
who is fighting cancer or make a difference in one click by
donating
to The David Benzer Torture Cancer Foundation. Stay informed on the foundation through the Torture Cancer
blog
, sign up for the newsletter, browse news articles and events or follow the David Benzer Torture Cancer team on Facebook and Twitter. David Benzer, long time San Francisco Giants cameraman, was inspired to start the Torture Cancer Foundation because of his personal diagnosis and battle with cancer. He found that the fear inherent in the diagnosis and experience of cancer is often as debilitating to the spirit as the treatments are to the body. Too often, patients are left to handle the struggle alone. This web site helps connect supporters and patients who want to join in the fight against fear.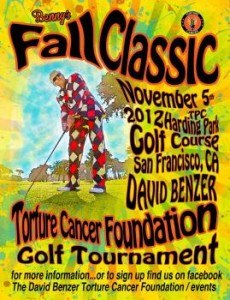 Join the
Torture Cancer Foundation's Fall Classic Golf Tournament
and fundraiser on Monday Nov. 5. at the TPC Harding Park Golf Course in San Francisco. It will be a great day of golf, gourmet food and drink along the course, dinner, an auction and music by a surprise group of legendary musicians. Sign up
here
.