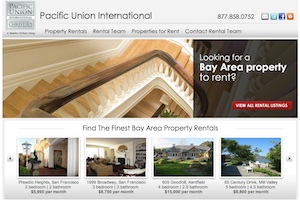 By now
,
 we all know that Pacific Union International is the Bay Area's resource for high-end properties for sale. However, Pacunion also recently decided to launch a new website dedicated to their
Bay Area luxury home rentals
. If you are looking for an amazing home to rent for vacation or to simply live in the Bay Area, Pacunion Rentals displays properties in San Francisco as well as surroundings cities in Marin County (North Bay). WebSight Design developed the website in a similar way to pacunion.com in order to keep a consistent look. Clara Laines-Welch and Kristin B. Wilson, two of Pacific Union International's highest producing agents, have decided to include a custom property manager in order to showcase their listings, pricing, photos and details. We believe pacunionrentals.com will soon be one of the major tools for future tenants to find their next beautiful rental house in The City or around.