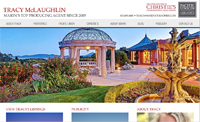 Tracy McLaughlin is a real estate superstar. As the highest producing
Marin real estate agent
since 2005, co-owner of Pacific Union, and topping Wall Street Journal's America's Top 1000 real estate professionals list at #122, Tracy's statistics prove her flawless ability to assist homebuyers and sellers. As a native of Ross, CA, Tracy has local insights, networking capabilities, competence, and respect from the community, which sets her apart from other agents. With a background in journalism and communication, she has the ability to provide distinct information and negotiate transactions. Tracy's passion for homes and design jumpstarted her decision to make the transition from television broadcasting to real estate, in order to personally buy, renovate, and design homes. Tracy brings her construction and renovation knowledge to her clients, which allows her to maximize property values and ensure her clients are making the best investment possible. Tracy is not only highly active in her community "" education, athletics, arts, women's league, the list goes on, but she also is a big believer in giving back to the community in which she resides and works. Her involvement spikes her extensive experience and invaluable insight that she shares with her clients.
WebSight Design, Inc
. wanted to provide an elite website to honor Tracy's elite
Marin real estate
status. The sleek new site reflects Tracy's professionalism, expansive knowledge, and personal appeal. Properties are displayed with detailed information and with stunning high-resolution photos, which can be easily scrolled through to see unique aspects of the home listed. Links to Pacific Union and Christie's websites are provided on the navigation bar "" which allow you to further investigate properties, market conditions, and international listings. Tracy has written about each community in Marin County, providing readers with local amenities, community phone numbers, and distinct qualities, and WSD arranged this information in a clear, straightforward, and accessible way "" just as Tracy McLaughlin is with her clients.