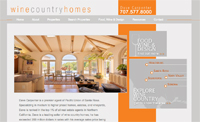 Well known for a desirable location for vacation, a romantic getaway, or a day trip out of the city, Wine Country is packed with wineries, luxurious accommodations, serene environments, and gourmet dining. Without thinking much further, why not make such a magical place your permanent home?
Dave Carpenter
has been helping people do just this in Wine Country since 1999. Dave was born and raised in Sonoma County, and was involved in
Wine Country real estate
since he was young -  his father ran Carpenter Realty in Santa Rosa for 45 years "" dating back to the 1950's. Dave Carpenter serves Healdsburg, Sonoma, Napa Valley, Sebastopol, and Santa Rosa, providing professional guidance, personal insights, and statistical market information. Over the years, Dave has developed immaculate techniques to advise clients with the knowledge to make informed decisions, which has enabled him to achieve tremendous results. He has sold over 75 properties priced above one million dollars, has been a top agent among 100 others for almost a decade, and has exceeded $200,000,000 in sales. But more than just numbers, Dave has the heart of a local; he's honest, knowledgeable, shares his personal insights and cares about his clients. WebSight Design, Inc. designed WineCountryHomes.com for Dave to display the lavish
wine country homes for sale
, to share his local secrets and favorites in his blog -
Food, Wine, & Design
, and to make it easy for homebuyers to search for the perfect property. Complete with an interactive map of the area, a local resources list, and an effortless contact form, this site has it all in one place.