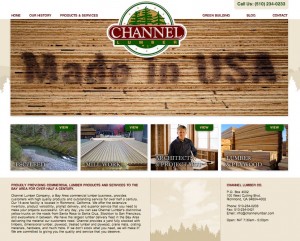 WSD is always honored to design and develop a website for a local Bay Area business. Channel Lumber has been
serving the Bay Area with lumber
, milling, and assembly for over 50 years. When they came to us to give their site a new look and accelerated function, we were happy to take on the job. Channel Lumber has a 14-acre facility in Richmond, CA stocked full of lumber, plywood, concrete form, crane mats, sidings, hardware, building materials, and one of the largest inventories in California of FSC/LEED products. In addition to products, the professionals at Channel Lumber provide an array of services - Mill Work, Custom projects, Architect & Project Management Consultation, and delivery.
Channel Lumber's products
are acquired from trusted sources and are protected until delivery, allowing the highest quality product to be delivered to your door. Channel Lumber provides for projects ranging from small-scale to commercial construction. Their products have helped rebuild the Bay Bridge after the '89 Earthquake and have put together countless sustainable projects. Their products are delivered locally and shipped across the country; Channel Lumber spreads their mark far and wide. Channel Lumber is proud to be committed to responsible and sustainable lumber best practices, respecting the natural habitat from which their product comes. Channel is certified by the Forest Stewardship Council (FSC) and respects the Leadership in Energy & Environmental Design (LEED) system. Both organizations pride themselves in the availability of sustainable solutions for the entire building lifecycle. WSD was sure to highlight Channel Lumber's leadership in sustainability and their commitment to
green building
. It was also our goal to beautifully showcase the variety of products and services provided while keeping organization a priority- making it simple for visitors to navigate when looking for a specific product. With one of the largest inventories of lumber in California, they are constantly receiving new sizes and grades of their products. To accommodate this, WSD designed a custom Content Management System (CMS) specifically for Channel Lumber for easy updates to be made from the back end. WSD also provided Channel Lumber with a custom WordPress blog where they can share the latest and greatest updates from Channel- highlighted projects, new products, newsworthy information, and general updates in the lumber industry. Combine history, quality, variety, sustainability and customer service, and Channel Lumber is the best of the best. Channel Lumber has you covered from the first thoughts of your project to the glorified finish.
Contact Channel Lumber
for information, guidance, and assistance with all of your building needs.