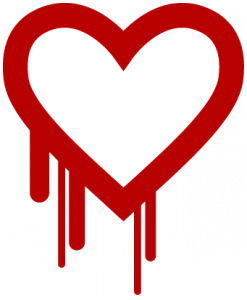 An online bug called
Heartbleed
was discovered this week by Google's security team and the security engineers at Codenomicon. The bug exposes critical information, such as usernames, passwords, and user data, on OpenSSL. After becoming aware of the bug,
our hosting team
immediately issued an update to our servers and all of our servers have now been patched for Heartbleed. Because of our quick response, none of our clients' sites were compromised. Potentially one of the biggest Internet security threats in recent history, the bug may have made more than half a million sites vulnerable. If you have an account at any of the exposed sites, we strongly advise changing your password. However, it is crucial to only change your password 
after
the site has been fixed. Major sites that have already announced that they have issued fixes include:
Heartbleed test
 to determine whether a website is safe or not. They are recommending that anyone with a Yahoo.com, OkCupid.com, or GitHub.com account change their password. Mashable reached out to popular websites in addition to these and has compiled their responses to help users determine if they should be
changing their passwords due to Heartbleed
. This is a serious issue, but we are here to keep you safe. If you have any questions or concerns please
do not hesitate to contact us
.