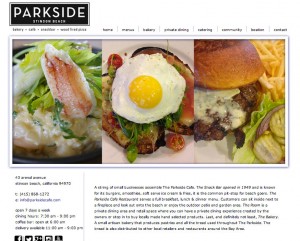 One of the many wonderful things about being in the Bay Area, and specifically Marin County, is we are surrounded by so many small, special restaurants owned by local folks who produce high quality food. The Parkside Cafe in Stinson Beach is a charming gem just off the water, providing an array of food to both local residents and hungry tourists after a day on the beach.
The Parkside Cafe has three different ways to get one's hands on their tasty food. They have the Stinson Beach bakery with coffee, pastries, and fresh, home-made breads; a perfect stop in the morning. If it's mid-afternoon, prime beach weather and you don't want to miss a minute of sun, you can stop by the snackbar, just steps off of the sand. Step up to the counter in your bathing suit and bare feet and order quick-fix snacks like burgers, fries, and their ever-famous soft serve ice cream cones.
When the sun has set, you've wiped the sand off and you're ready to sit down, head to the casual but upscale cafe for some high quality food made with local ingredients from farms just miles away. The Parkside Cafe has indoor and outdoor seating (with heat lamps for cool Bay Area nights),and offers a variety of cuisines, each crafted with fresh ingredients - from the sea, the farms, and their gardens. Soups, salads, appetizers, sweet seafood, local meats, wood fired pizza, and delectable desserts - you can't go wrong with what you order.
WSD created this website for Parkside Cafe to really show the variety of food offered - from snacks to sit down, Parkside provides it all. While drooling over the photos, we put together the site with full menus, prices, and services offered - including catering and private dining.
Parkside is proud to be in the Stinson Beach community - one of the most beautiful beaches in the Bay Area with a quaint and close community full of people and businesses that support one another. The well-known trendy website, Refinery 29, recently mentioned Parkside Cafe as the perfect place to grab food after a hike in Marin. We couldn't agree more.