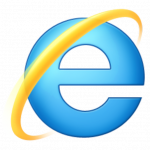 Microsoft has announced there is a security hole in Internet Explorer versions 6, 7, 8, 9, 10, and 11. FireEye Inc., the company that discovered the flaw, is saying it is a part of a bigger plan, known as Clandestine Fox, to target U.S. financial and defense companies. The flaw is being classified as a "zero-day" threat meaning that the attack exploits a previously unknown vulnerability and there have been zero days between the time this vulnerability was discovered and the first attack.
What Could the IE Vulnerability Do
In their official announcement about the threat, Microsoft addresses questions about what an attacker might use the vulnerability to do:
What might an attacker use the vulnerability to do? An attacker who successfully exploited this vulnerability could gain the same user rights as the current user. If the current user is logged on with administrative user rights, an attacker who successfully exploited this vulnerability could take complete control of an affected system. An attacker could then install programs; view, change, or delete data; or create new accounts with full user rights.
How could an attacker exploit the vulnerability? An attacker could host a specially crafted website that is designed to exploit this vulnerability through Internet Explorer and then convince a user to view the website. The attacker could also take advantage of compromised websites and websites that accept or host user-provided content or advertisements. These websites could contain specially crafted content that could exploit this vulnerability. In all cases, however, an attacker would have no way to force users to view the attacker-controlled content. Instead, an attacker would have to convince users to take action, typically by getting them to click a link in an email message or in an Instant Messenger message that takes users to the attacker's website, or by opening an attachment sent through email.
What to Do while Microsoft Fixes the Bug
FireEye has given steps for users to take until Microsoft has resolved the issue:
Use another browser instead of IE
Disable the Adobe Flash plugin. The attache will not work without it.
What to Do if You Use Windows XP
Consistent with its plan to stop providing support for XP on April 8th, the company has confirmed that it will not be issuing a fix for browsers running on XP, which account for 25% of all PCs globally. Because the threat has occurred so close to the support cut off date and due to its risk level, it is questionable whether or not Microsoft should be issuing a fix. However, at this time they have no plans of making an exception. The company's advice is still to upgrade to Windows 7 or 8 or to purchase a new PC. If you have any questions about this security threat, please do not hesitate to contact the WSD support team for additional information. Update: Adobe has released an updated version of Flash as a fix. Visit the Adobe site for more information.