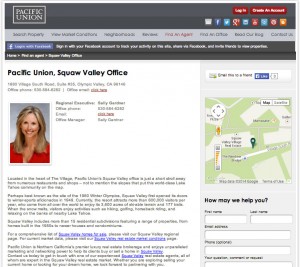 Pacific Union, the San Francisco Bay Area's premier real estate firm has over 500 real estate agents and offices spanning across Northern California. Founded in 1975, Pacific Union has lead generations of buyers and sellers through the process with top quality customer service and extraordinary results.
Pacific Union has real estate offices in San Francisco, Marin County, Alameda, Contra Costa, Napa, Sonoma, a flagship Silicon Valley office, and its most northern offices sit in the Tahoe/Truckee region of Placer and and Nevada counties.
Lake Tahoe real estate is in high demand. People are in love with Tahoe's year round recreational activities serving the most extreme athletes to those who love to lounge fireside or lakeside. The Pacific Union Tahoe, Truckee, and Squaw Valley offices serve clientele throughout West Shore, Tahoe City, Squaw Valley, Alpine Meadows, Northstar, and Truckee.
Sally Gardner, branch executive for Pacific Union in the Tahoe area stated in February, "Pacific Union decided to go into the Tahoe/Truckee region because 80 percent of homeowners here are second-home owners, and most of those people are from the Bay Area. Being able to offer the brand that Bay Area residents have come to know and trust in Tahoe was a natural progression."
With the winter coming to a close, soon boats will be upon the lake and mountain bikers and hikers will traverse across the slopes where skiers and snowboarders had just been. Instead of worrying about hotels and rentals each time you make the trek up north, owning a home in Tahoe can become a reality for you. Contact the Squaw Valley real estate office and allow Pacific Union realtors to endow you with their unparalleled experience of Tahoe real estate.