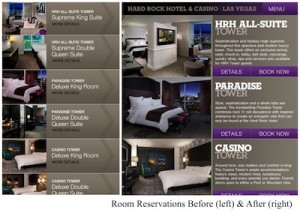 Last month, WebSight Design launched a modern, sleek mobile version of the Hard Rock Hotel & Casino's website.In contrast to the previous mobile version, which displayed limited content, the new optimized mobile site successfully translates all the content from the desktop version to a smaller interface. To prevent sluggish load times on mobile devices, WebSight Design and the Hard Rock Hotel & Casino team opted for a presentation layer instead of responsive design. Our 3 primary goals for the mobile launch were to:
Design a visually appealing mobile site in line with Hard Rock Hotel & Casino's target market.
Increase conversion - in this case, hotel bookings.
Reduce the mobile and tablet bounce rates.
Our development and design teams successfully accomplished the objectives at hand. The new mobile site reflects the hotel's innovative nightlife and music scene with a rotating display banner on the homepage and graphic thumbnails used to display menu categories.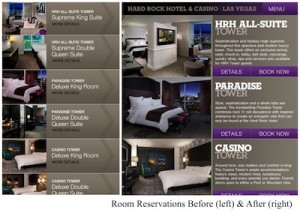 To increase conversions, the room booking process was given a more intuitive design and fluid user interface. Larger photos, descriptions all on one page, and the ability to book a room with the tap of a screen make it easier for visitors to view room details and reserve. Within 2 weeks of launch, Hard Rock Hotel & Casino's tablet and mobile bounce rates decreased by over 5%. WebSight Design built Hard Rock Hotel & Casino's desktop site in conjunction with Meatoes.com, a top shelf, LA-based design agency. WSD is responsible for all programming, hosting, and maintenance. Features include: user registration, room reservations, and a custom CMS. Hosting includes load balancing to ensure the Hard Rock's web site keeps rocking under heavy traffic. Hard Rock Hotel & Casino is a premier destination entertainment resort situated on 26 acres in Las Vegas. Built in 1995, the property completed a $750 million expansion in 2010. Hard Rock Hotel & Casino offers an energetic entertainment and gaming experience with the services and amenities associated with a boutique luxury resort hotel. About Us WebSight Design is a Bay Area web design firm created in 1995. We create and manage websites for large firms as well as businesses of smaller sizes. We also specialize in search engine optimization, social media management, hosting, app development, and more. Contact us today and see what we can do to create your website.