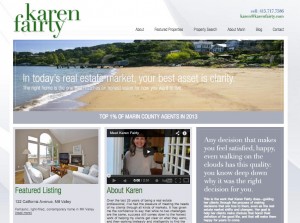 Just as Marin County real estate is expanding, modernizing, and flourishing, so are the ways in which you can search the internet to find a realtor to help you with your real estate needs. With hundreds of real estate agents in Marin County, it is a wise decision for realtors who want to stand out to take control of their web presence and trust in a web development agency to secure best web practices.
Marin County realtor Karen Fairty has trusted in WSD to shine up her web presence with a fresh redesign of her website. Included in the new website is her personal blog which Karen will continuously update with Marin County real estate news, market news, area updates and local to-dos. As a resident of Marin, Karen has both the local knowledge and the professional experience of Marin County living.
Karen has breath-taking featured properties of Marin County listed on her site. Karen has also listed her sold properties, displaying her reliability and dependability to sell your property for what it's worth.
Looking for something other than what you see in her featured properties? WSD installed Pacific Union's search platform directly onto Karen's site, allowing you to set specific search standards to find precisely what you are looking for.
As a realtor who is attentive of her web presence and cares that her experience and properties are thoughtfully displayed to you as a visitor of her site, Karen will be attentive and thorough when helping you buy or sell your next home.