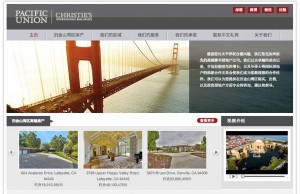 Pacific Union has launched their latest venture - Pacific Union China and expanded their reach to assist Chinese residents to effortlessly find their place in the Bay Area.
The Bay Area offers the best of the best with its international appeal, tech sector, picturesque setting, and unrivaled education. Pacific Union saw the opportunity to provide their premier real estate services to Chinese looking bring their property investments and spending to the Bay Area.
"The Chinese buyer pool tends to be very interested in purchasing property for multiple uses," Pacific Union CEO Mark A. McLaughlin says. "It could be for personal use "" they want to move their family into a great city with a great school district "" or a series of investment choices."
In partnership with Christie's International Real Estate, Pacific Union can provide professional guidance on the Bay Area market trends. Chinese investors can trust Pacific Union to provide elite services and honest translation of projected Bay Area market conditions. The competition in the local market is topping charts and the future of Chinese investment in the Bay Area is on the rise.
David Barca, vice president of Pacific Union's Silicon Valley region, commented on buyers from Asia's purchase trends, "With its excellent public schools, rapidly growing property values, and proximity to Stanford University, Palo Alto has become ground zero for buyers from Asia. San Francisco, Los Altos, Atherton, Cupertino, and Hillsborough follow close behind."
For optimal function in China, the Pacific Union China website was programmed by SouFun.com. However, WSD still held a big role in development of the site, including design guidance and hosting setup (through Rackspace, Hong Kong). We also provided a thorough quality analysis and strong SEO recommendations assuring the site will work efficiently and display appropriately in search engines internationally.
WSD is proud to see Pacific Union expand and provide such reputable and reliable real estate services both locally and internationally.