In the gaming world, puzzles are like comfort food. When I think of doing puzzles, I'm reminded of holidays at home with the fire blazing and a glass of red wine and family nearby. There is a method to puzzles, a thought process, with every family having their own traditions and strategies.
Liberty Puzzles has captured these emotions and has been manufacturing puzzles in Boulder, Colorado since 2005. Owner Christopher Wirth inherited several hand-cut wooden puzzles from the 1930s and decided to start a puzzle business with Jeffery Eldridge. With the desire to keep wooden jigsaw puzzles with handcrafted, whimsy pieces alive, Liberty Puzzles was born.
With over 400 puzzles available online, Liberty Puzzles needed an organized and easily searchable site. We installed an e-commerce function to the site allowing users to buy jigsaw puzzles online. All puzzles are organized into categories or by size to uncomplicate your search, allowing you to find the perfect puzzle for any occasion. Designs range from popular holiday-themed puzzles to more rare vintage print and special edition puzzles.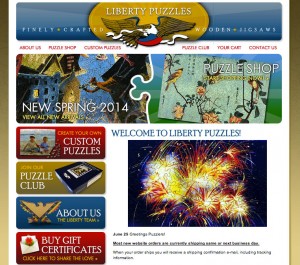 Have a special occasion or a birthday coming up of a puzzle lover? What better gift could you give than a custom jigsaw puzzle? Liberty Puzzles provides the opportunity to take a beloved photo and turn it into hand-crafted pieces of a puzzle. WSD designed the Custom Puzzle page with an image uploader that brings you directly to your cart - making the process simple and straightforward.
Liberty Puzzles has also created a puzzle community, known as the Puzzle of the Month Club. You can join the club for a 6 or 12-month commitment and each month you are gifted with a new puzzle. You can choose a theme for the subscription or you can choose to be surprised each month. Shipping is included in the membership fee, so once you join, all you have to do is enjoy the gift of the puzzles!
Liberty Puzzles are no ordinary mass-produced puzzles. They are thoughtfully created and are symbolically and strategically shaped pieces to be placed together to fit into a beautiful masterpiece. When complete, the feelings of success, accomplishment, and collaboration are felt and these are the exact emotions that Liberty Puzzles hopes to spread throughout their customer base.
Services Provided
Website DesignWebsite DevelopmentContent Management SystemProject ManagementHostingE-Commerce Development