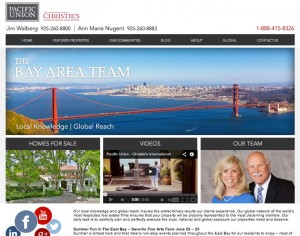 Two minds are always greater than one. This is quite the case when it comes to real estate agents; Jim Walberg and Ann Marie Nugent are "The Bay Area Team," and quite the team they are. Together, they combine their extensive knowledge of Bay Area real estate and international real estate, providing top-tier experiences and results for their clients.
Jim Walberg is a member of Pacific Union and Christie's International Real Estate, is a certified Luxury International Real Estate Specialist, a Certified International Property Specialist, and is a featured industry speaker in real estate communities all over the world. Ann Marie Nugent has been in international business for over 30 years and moved across the country to the Bay Area after living in Geneva for 12 years. She uses her International proficiency and her personal experience to enhance the remarkable customer experience The Bay Area Team provides.
The Bay Area Team has stunning properties for sale on their site. Browse through available listings and learn extensive details, view external and internal property pictures and click through for virtual tours of the homes. Jim and Ann Marie have also written information on all of the Bay Area communities they serve, giving readers an easy way to get to know neighborhoods.
Jim and Ann Marie's international properties are also listed on the site, along with all of the tools necessary for making an international purchase as flawless and simple as possible. Jim and Ann Marie aim to let your dreams of owning a picture perfect property overseas become a reality. A simple click from the navigation bar will bring you to the Foreign Exchange Service page for a quick currency exchange function, and if you don't find your dream destination listed on The Bay Area Team's site, Jim and Ann Marie have included a quick link to Luxuryrealestate.com - pick your destination and the properties are there for you. When you find the home of your dreams, simply contact Jim and Ann Marie and they will do all of the hard work, providing you with ease, knowledge, and comfort during this major milestone.
So you are always in-the-know, Jim and Ann Marie co-write the East Bay Real Estate Blog - a place where they share local information, global connections, and other real estate tips, tricks, and thoughts. Through the blog, Jim has implanted his acclaimed understanding of the real estate market for years, acquired followers and claimed prestige. Jim also is consistent, fun, and informative on The Bay Area Team's Facebook page!
WSD loved working with Jim and Ann Marie to make their dream website come to life. By combining multiple sites, outside sources, and complex search functions, WSD designed and created TheBayAreaTeam.com, complete with everything you need to make your local and international search for your dream property a breeze. Highlighted features on the home page allow for quick navigation through the detailed site, and captivating pictures aesthetically show the beauty of the Bay Area and the vastness of our world. We would like to deem this an extraordinary website to be included in Jim and Ann Marie's tagline "Connecting extraordinary lives with extraordinary properties!"