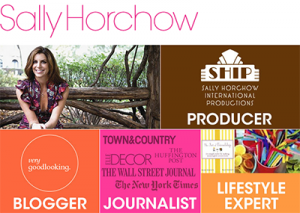 One of the greatest rewards of building web sites is collaborating with passionate, inspiring, and leading-edge personalities. Long time client,
Sally Horchow
is just that. In the lifestyle and trend industry, Sally is known as a Guru and Pop Culture Diva. A writer and TV personality, Sally loves to share her experiences in living well, adventuring, travel, entertaining, cuisine, design, fashion, and art with others. Sally is a
regular contributor
to
The New York Times, The Los Angeles Times, Town & Country,
and
DailyCandy.com
. Such an impressive portfolio deserves a web site and social media presence to match. WebSight Design partnered with Sally on the previous installation of her site as well as her web site
Very Good Looking
. Given her fashionable field and advances in web site development, it was time to reimagine her site. The original version of
SallyHorchow.com
had a heavy black backdrop that was disconnected from Sally's colorful personality. The
new web site
presents lively shades of orange and hot pink on a fresh white background. For the redesign, we selected curvy colored letters for her name (her brand) to replace the formal, all capital, and white letters of the previous web site. The top navigation on the former site has been moved to the left and replaced by scrolling updates. The rotating text is used to cross merchandise to Sally's other professional endeavors:
Ship
, Sally's production company,
The Art of Friendship
, Sally's book co-authored with her father, and her
Instagram
feed. WebSight Design developed and maintains Sally's other web sites. The hero image of the new web site is a grid with 5 sections. In the top left corner a portrait of Sally, feminine and welcoming in a rustic setting. The other 4 boxes with captions: Producer,
Blogger
, Journalist, Lifestyle Expert. Each box, clicks through to reveal additional content. Similar categories can be reached via the left navigation: Bio, Broadway, Blog, Clips, Press, and Contact. All and all, the hero image and categories of content define Sally's expertise and spirit. Also new to Sally's site are a direct email sign up, on the top right of the homepage and links to all of Sally's social media pages on the left navigation.