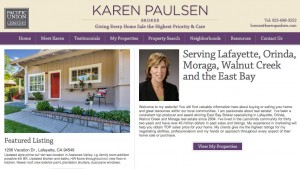 Serving Layfayette, Orinda, Walnut Creek, and Moraga for over 10 years, Lamorinda real estate agent Karen Paulsen guides clients through the entire journey of buying or selling a home. Her end goal is client satisfaction and she does everything she can to make her clients feel confident and content with the sale. Karen's proficiency in marketing provides security for home sellers. With her staging and selling experience, Karen is able to present properties professionally and allow them to shine on the market.
Karen Paulsen has lived in Contra Costa County for over 30 years and has seen the growth in both the real estate market and the local communities. Her commitment to the area is unparalleled to other agents in the area and she puts in the extra effort to match clients with their ideal home in the ideal neighborhood. The Contra Costa County neighborhoods are pristine - comfortable, safe, accessible, and stimulating.
Karen's entrepreneurial skills also contribute to her success - she's driven, positive, and passionate. Buying and selling homes is an art that requires both knowledge of the market and of the home; Karen is well-informed of both. Both her sold and current properties for sale are listed on her website, citing her success.
WSD designed and developed Karen's site to represent Karen's calm nature and driven personality. Cool colors and bold fonts give of the sense of serene security with Karen. A colorful photo of her featured listing is placed on the homepage for direct access and the navigation bar is simple and direct. Her site is full of necessary resources including community information, a property search, and staging examples.
We assure you if you trust in Karen Paulson for your Contra County real estate needs, you won't be disappointed.