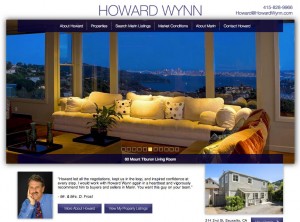 First impressions are significant. The first glance, the first environment, the first emotion. These are all instances that make a lasting impression. For many, websites are the first impression to a business venture, a new career, or a new home. At WSD we pride ourselves with the privilege to design and develop one's first impression.
When first arriving at Howard Wynn's new website, the deep blue tones layered on top of a bright white background instantly instill a calm, cool impression. This is the state of mind you want to be in when diving into the world of buying or selling a home. This is the state of mind that Howard Wynn allows his clients to keep throughout the entire process.
In addition to Howard's commitment to his client's experience, his skills and successes are proof of his ability to auspiciously guide clients through the buying or selling process in an efficient and triumphant manner. Howard has been selling real estate for over 30 years, consistently as a top producing agent and ranked among the top 10 of all Marin County Realtors. His dedication to the community and his involvement in multiple boards and associations contribute to his competence of the industry.
Howard's site is easily navigable and provides a generous amount of information for those looking to buy or sell a home in Marin County. You can search active listings, browse through current market conditions, and learn about Marin County communities to find the best fit for your future home. If you find yourself with questions, if you're ready to take the steps to buy or sell, or even if you need advice on where to begin, just click the 'contact' tab and easily connect with Howard Wynn to begin the conversation that will lead you home.