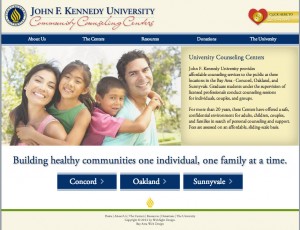 John F. Kennedy University is a private, not-for-profit university settled in Pleasant Hill, CA. The university offers flexible undergraduate-completion programs, and innovative graduate, doctorate, and certification programs.
In addition to exceptional programs, JFK University also offers affordable counseling services to both students and local residents. The JFK University Community Counseling Center's mission is, "to offer affordable community support for children and families, and to effectively educate and train future counselors through hands-on experience which is supervised by licensed practitioners." With three community centers - one in Concord, Oakland, and Sunnyvale, the JFK University Community Counseling Center (JFKUCCC) provides on-site services and support groups for a large variety of topics.
WSD designed and developed www.jfkuccc.org with the mindset to reflect the mission and passion of accessible support and assistance. Whether a student seeking higher education counseling training programs, or a family seeking life transition counseling, the site is enabled to effortlessly guide you through the correct navigation to find the information and resources necessary.
The color scheme is similar to JFK University's, with additional red highlights to signify the different department. The home page features the three community centers with quick links to each center's page, which lists specific services offered and a quick link to support groups and on-site Bay Area counseling resources. Help is just a click away.
As a non-profit, monetary support is necessary to keep business thriving and support available at an affordable price. Donations directly support client services and directly impact the community. The 'Donate Now' button links directly to jfku.edu's secure donation page where you can donate online or find the information to donate over the phone.
For a thriving community, available and affordable support and guidance is essential. We were happy to create JFKUCC's website, as their community services and resources warrant an entire site dedicated solely to the information and care they provide.