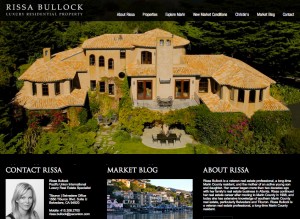 The beauty of the Bay Area is often what draws people in and keeps them around. When visitors view the expansive bay views and spend time in the enriched cultures, it is almost impossible to not yearn to surround yourself in such beauty day in and day out.
The charm of Marin County is what drew Rissa Bullock from Atlanta and since has inspired her to help others find their home in the pristine area. Rissa has been in the real estate industry for over 20 years, moving from her family's real estate business in Atlanta to now working with leading luxury brokerage, Pacific Union International. Rissa's combined skills of communication, negotiation, industry knowledge, and interior design is an unstoppable package.
WSD created this website to showcase Rissa's distinguished role in Bay Area real estate. The dark header results in a dramatic effect - allowing the white pages of the site to pop, bringing the viewers attention to the content and photos. The luxury properties are displayed in large, crisp photographs, allowing the user to feel as if they're walking through the home. As a seller, it's guaranteed Rissa will display your house as a masterpiece.
Looking to buy in Marin? Whether you're more interested in learning the culture and lifestyle of each city or whether you want be prepared and get familiar with the Bay Area market conditions - all are accessible and available on Rissa's site. Her personal knowledge and proficiency of Marin County and the real estate industry will be updated regularly on her blog, giving you a more unique Marin County update.
WSD is always thrilled to work with Pacific Union agents, getting to know each of them individually and designing and developing their website to creatively showcase the expertise they bring to the Bay Area. Contact Rissa Bullock to share your story and begin the exciting journey of buying or selling your home.