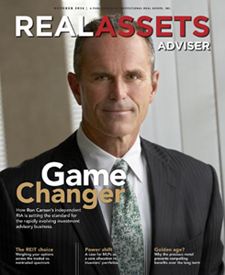 Last month one of our esteemed clients, Institutional Real Estate, Inc. (IREI), launched a new independent monthly magazine and website called Real Assets Adviser to meet the needs of investment advisers who are actively investing in real assets.
Real Assets Adviser covers the entire spectrum of real assets, including real estate, infrastructure, energy, commodities/precious metals, and agriculture and timber. It's the first and only publication of its kind and provides actionable insights to help advisers make informed decisions on diversifying client portfolios, providing long-term income, and hedging against inflation. The website is a hub for breaking news and analysis about the real assets class.
Already a trusted source for industry knowledge, IREI adds Real Assets Adviser to its diversified portfolio of news magazines, special reports, and directories designed for the global institutional real estate investment community. Real Assets Adviser was specifically created for investment advisers, wealth managers, family offices, independent broker-dealers, and defined contribution plan administrators looking for thoughtful insights on real assets.
Real Estate Advisor was slated to reach an initial audience of 70,000 readers and is available in both print and digital formats. For more information visit the Real Assets Adviser website.
*Photo: PRNewsFoto/Institutional Real Estate, Inc.