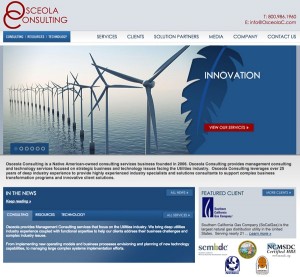 Osceola Consulting
, a consulting services business founded in 2006, provides management consulting and technology services focused on strategic business and technology issues facing the Utilities industry.
WebSight Design
recently completed the design and development of Osceola's website with the company's three key values in mind: Integrity, Execution, and Innovation. Leveraging over 25 years of deep industry experience, Osceola Consulting employs highly experienced industry specialists and solutions consultants to support complex business transformation programs and innovative client solutions. The navigational structure of Osceola's new
website
makes it easy for potential and existing clients to find the information they're looking for. To keep a consistent brand identity, WSD selected a grey and blue color pallet that was used throughout the site. Osceola Consulting's logo, contact information, and call to action button all stand out in red. Companies that are considering Osceola Consulting for their services can check out the
testimonials page
, which highlights some of Osceola's high profile clients. Osceola goes above and beyond the standard "About us" page with a personal
letter from the CEO
and pages dedicated to the company's commitment to
cultural diversity
and
community service
.