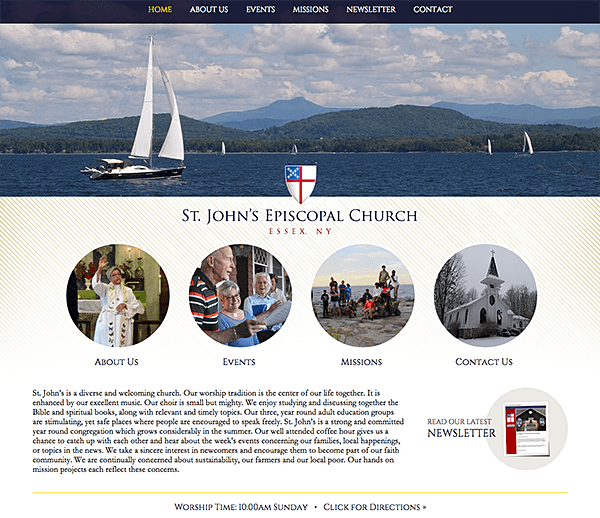 In this day and age, all organizations, even churches, are looking to optimize their websites. When
St. John's Episcopal Church
of Essex, NY came to us to redesign their website, we were thrilled to learn about their rich history and take on the project. St. John's
history
dates back to the early 19th century, when Henry Howard Ross constructed a simple Gothic Revival schoolhouse for the children in his community. Ross intended that one day the school would be converted to a church. In 1853 a group of faithful Episcopalians formally incorporated St. John's Church in the Diocese of New York. In 1880 the local vestry voted to purchase the lot next door and move the church uphill a bit, and that is where the church resides today. St. John's is a diverse and welcoming church with a strong worship tradition at the center of the community. St. John's recognizes and welcomes individuals of the LGBT community and supports their rights to marriage or civil union. The church touts its "small but mighty" choir and is committed to year round congregation, with attendance numbers growing significantly in the summer.
WSD
 developed a website for St. John's Episcopal Church that met the church's design and content management objectives. The design is clean and simple: A top navigation with drop-down menus resides above a static homepage image. One feature that the church requested was clear text, which would be easy for the aging parishioners to read. We accomplished this by using black Times New Roman font on a white backdrop. The red, white, and blue color scheme coordinates well with the Episcopal emblem. The site maintains an authentic look and personal style by using photos that were taken by actual church members. Behind the scenes, the site features a user-friendly content management system (CMS) that allows church administrators to add or update content, including the 
Missions
 page and the photo galleries for the site. On the
Events
page, in addition to listing special events such as parties and lessons, a
Calendar of Events
also informs members of recurring events, such as worship times and study groups. St. John's site has a
newsletter
signup page, as well as an archive of past newsletters that members and visitors can access.