Just six months after Find Everything Historic (FEH) launched its website, Peter and Meggen Taylor's exciting startup has taken some incredible strides. To commemorate their first year in business, we're celebrating their most impressive successes.
Find Everything Historic provides clients and visitors alike with a unique service delivered via a platform that is both visually inspiring and user friendly. When the site launched in November 2014, it had 60 active listings. As of today, FEH has nearly 400 active property listings and 100 business listings. Many new subscribers have come to the site organically, a testament to Find Everything Historic's blossoming SEO effort.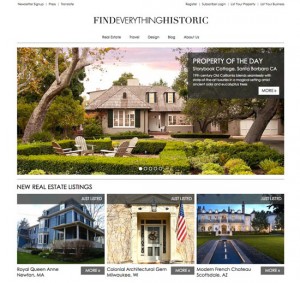 Content on FEH's site is a fresh as it gets. Every time visitors return to the site they are greeted by a new Property of the Day on the homepage. The Find Everything Historic blog now consists of nearly 100 posts on topics ranging from preservation to history, to vacation rentals. With the click of a mouse, visitors can share any blog post to their own social feeds. FEH is more than a real estate site featuring historic properties. Peter and Meggen's zest for life and their passionate narrative keep visitors coming back.
Every Friday Find Everything Historic explores a "Top 5" theme: Top 5 really Historic Properties, Wedding Destinations, and Dreamy Master Suites, to name a few. From the ground up, FEH has built a significant social media following. They currently have almost twelve thousand active followers across their social sites. There has been an outpouring of interest from the press about FEH's exciting story. Historic properties are frequently featured in the Wall Street Journal.
Just last month, FEH's listing for a Craftsman Mansion in Portland was voted by WSJ subscribers as the house of the week! FEH is currently in the process of building a fully responsive mobile site, designed and developed by WebSight Design. Soon history, real estate, travel, and design enthusiasts will have an even better experience while on the move.
Stay tuned for more details! FEH's Preservation Partners made up of non-profit preservation, cultural, and historic industry organizations can promote their projects and their mission on the site at no cost. In March 2015, Find Everything Historic announced they will be taking their show on the road. Peter and Meggen will be packing up their business, their laptops, and two dogs in a pimped-out vintage Airstream that they are in the process of renovating. It keeps getting better.