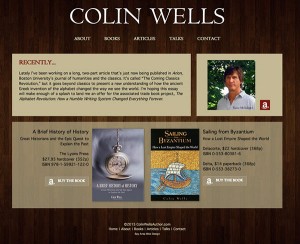 Last month WebSight Design launched author
Colin Wells
' website. The streamlined site serves its purpose in providing visitors with more information about Colin, links to
order his books
and information on his upcoming
talks
and
articles
. The overarching theme that connects Colin's books and articles is the so-called "clash of faith and reason" and how it has played out in history. After years in L.A., Colin moved back to his hometown in the Champlain Valley of northern New York State, which borders the Adirondack Mountains. It's a beautiful, rugged, rural area that surely inspires Colin's creativity. Colin also writes a
weekly column
for the Valley News. Here's a fun fact: WSD's CEO, Alex Paine's great-great grandfather settled in the Westport area of Upstate NY. To this day, Alex's parents still live on the family farm. For this reason, WSD has a large number of clients from this remote rural area 3,000 miles from WSD's home office in Sausalito, California. Be sure to check out the other sites that WebSight Design has developed for the following Westport-area based businesses and authors:
Kristin Kimball
,
Champlain Medical
,
St John's Episcopal Church
. WSD also designed the website for
Champlain National Bank
and manages 
hosting
for
Essex Farm Institute
and
Essex Farm CSA
.