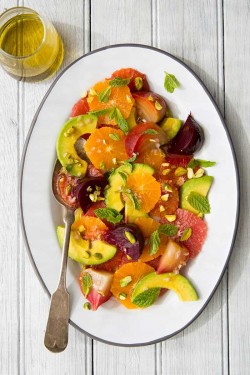 It's the new year, which means new beginnings and of course , resolutions for healthier living. The start of 2016 also brings the launch of
Websight Design
's first website of the year,
calpurefoods.com
, a California-based company, that will make achieving diet goals all the easier. Healthy and happy, CalPure Foods was founded by husband and wife team and multi-generational farmers
Mike and Erika Rutledge
. CalPure Foods, is the culmination of Mike and Erika's dream of producing a world-class food they could offer to a global market. The brand's inaugural product:
PURE Avocado Oil
™
. Mike and Erika are committed to providing a specialty and quality food products. In early 2016, coinciding with the California avocado season, CalPure Foods will become the first large-scale domestic producer of avocado oil in the United States, a portion of their oil production will use only 100% California-grown avocados. In addition to being delicious, avocado oil has
countless cooking and health benefits
. Cholesterol-free, Non-GMO, and certified kosher, Pure Avocado Oil™ is a known superfood that can be used for roasting, frying, grilling, searing, dipping, drizzling, spreading and emulsifying. PURE Avocado Oil™ has the highest smoke point among all cooking oils at 520
o
F. WebSight Design was involved in all aspects of the fully-responsive, mobile-friendly website's creation: brand strategy, graphic design, production,
development
, and
search engine optimization
. Calpurefoods.com has e-commerce functionality which enables visitors to the site to
purchase Pure Avocado Oil
™. Calpurefoods.com has a
recipe
section that displays mouth-watering, easy to prepare recipes. If you're looking a tasteful, healthful addition to your pantry, look no further than CalPure Foods.