WebSight Design (WSD) is pleased to announce the redesign and launch of The Mills Building's website; the website highlights the building's historical impact on San Francisco, its amenities, and much more. The previous Mills Building website was non-responsive and had limited visual impact. As part of renewed marketing efforts, The Mills Building team engaged WebSight Design to refresh the website appearance, functionality, and appropriately promote this beautiful 19th Century building.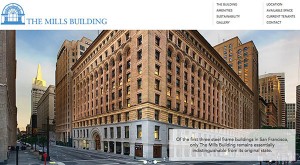 WSD incorporated its +20 years of knowledge of wireframing and programming, its web design, and its finesse with production into this project. The WSD team also implemented a layered site hierarchy which allows the site to appear streamlined while presenting a breadth of rich content. The graphic design of the new website draws visitors in. The new site uses visually pleasing photography on each of the main pages and especially in the gallery. Visitors are encouraged to explore the building's current tenants, leasing opportunities, and learn about the building's unique sustainability programs. Like the building itself, the site's outward design is clean and traditional, while the insides are loaded with modern assets.
Learn more about The Mills Building and check out our website by visiting www.themillsbuilding.com.