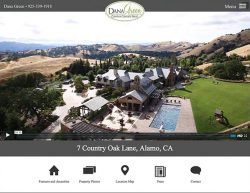 While WebSight Design is known for building larger corporate web sites, we also develop dozens of micro sites every year. One of our specialties is single-property web sites. These attractive, responsive web sites allow residential real estate agents to feature their property listings online. WSD provides domain registration, hosting, custom design, content population, and Search Engine Optimization. Some of our real estate agent clients build a stand alone microsite for each of their higher end listings. These clients include:
Dana Green:
27 La Noria, Orinda, CA
7 Country Oak Lane, Alamo, CA
Josh Burns:
10 Canyon Road, Fairfax - CA
6 Lula Way, Mill Valley - CA 
510 and 512 South Street, Sausalito - CA 
Debi Fitzgerrell
231 Bonita Avenue, Piedmont - CA
15 Muir Avenue, Piedmont - CA
16 Estrella Avenue, Piedmont - CA 
Greg Jackson
430 Via Del Rey, Alamo - CA
We additionally offer agents more comprehensive real estate design, build, and marketing services for their primary agent web sites. Some of our If you are interested in our web development services, please contact us.