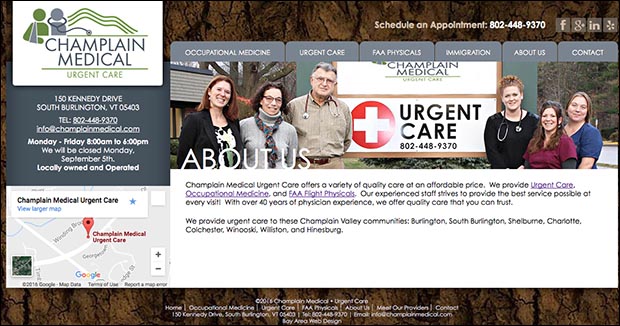 Champlain Medical Urgent Care
is run by Dr. Josh Schwartzberg - D.O. and Beth Schiller - AGNP. Located at 150 Kennedy Drive, South Burlington, VT 05403, the practice provides urgent care to patients in the Burlington, Vermont area who require walk in clinic services.
As with many of our clients, we know "Doc Josh" personally, which always makes for a successful relationship. We launched the web site in July, 2014 and have been engaged in an ongoing digital marketing consultancy ever since. Champlain Medical Urgent Care provides
occupational medicine
services such as pre-employment physicals, drug and alcohol testing, and DOT physical exams. The medical practice also provides
FAA Medical Exams
, a convenient service for pilots as the office is only a mile from the Burlington International Airport.
Josh Schwartzberg
"Doc Josh" is a Doctor of Osteopathic Medicine. He has over 42 years experience providing the highest quality medical care to clients in the Plattsburg, NY and Burlington, VT areas, a region locals call the "North Country." Josh is a graduate of Philadelphia College of Osteopathic Medicine. He has held his NY State Medical License since 1972 and his VT State Medical License since 2000. Josh has been a Diplomate of American Board of Family Practice since 1975. Among his many accomplishments, Josh has served on the Board of Directors New England College of Occupational and Environmental Medicine (NECOEM),been a Clinical Assistant Professor Family Medicine; SUNY Upstate Medical Center, and worked with the Adirondack Medical Center in Lake Placid, NY. He is a certified: Impartial Medical Examiner, Medical Review Officer, and Senior Aviation Medical Examiner.
Beth Schiller
was originally trained as an engineer and worked as a healthcare information consultant for more then 20 years. Beth is an Adult Gerontology Nurse Practitioner (AGNP). She completed her Masters In Nursing at the University of Vermont in December 2014. Beth owns and runs Champlain Medical Urgent Care with Josh. The pair provide "best in class" medical care, all with a level of personal attention and genuine care that has become all too rare in 21st century medicine. Beth also runs
CV Wireless
, an Internet Service Provider (ISP) that provides high speed internet service to many people in the Essex Willsboro/New York area who would otherwise be stuck with dial up or satellite service.  CvWireless provides service without the download caps that satellite is famous for. CV Wireless uses a low-power, license-exempt and "licensed-light" radio spectrum technology which provides super fast, reliable, and affordable Internet access to a rural area that has been chronically underserved by other ISPs. WebSight Design built and launched CVWireless.com in August, 2015.