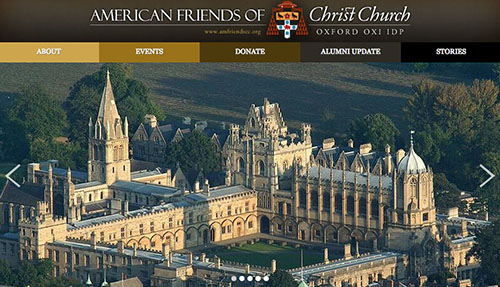 ---
Founded in the 16th century,
Christ Church
is one of the colleges of Oxford University. There are approximately 500 Alumni living in the United States. In the Summer of 2016, WebSight Design developed and designed a website for the American alumni as a conduit to keep them connected to their Alma Mater in England.
The American Friends of Christ Church
site has several key points of functionality. The About page features a general introduction to the site, as well as a Who's Who link, and FAQ's. The Events and Alumni Update pages keep visitors abreast of recent campus activities and news. One of the primary objectives of the site was to streamline donations from American alumni and other sources. The Donate page features detailed information about how to give, and information about the various types of scholarships, funds and foundations available. The
stories link
provides a personal and inspirational look at the people who have donated to the college, as well as students who have benefited. The stories spotlight graduates of the college, and provide a personal account of the positive ways in which their lives were influenced by Christ Church. Perhaps the most striking element of the American Friends of Christ Church is the graphic design. The grandeur of the campus, its buildings and history are key to the experience of visiting the site. Images of facilities, and the Alumni create an ambience of academic achievement that honor the Oxford tradition.