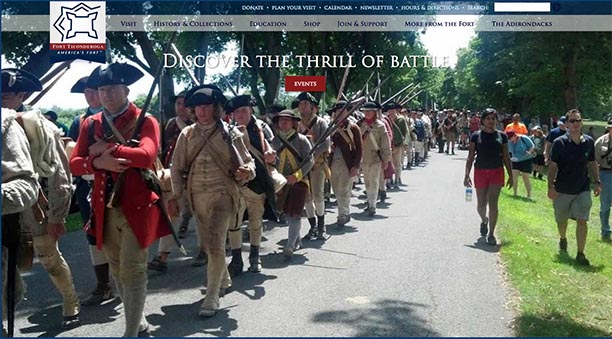 ---
Many of our clients and friends have noted that WebSight Design has a curiously large number of clients in the Adirondacks, a remote  part of rural upstate New York, almost 3,000 miles away from our home turf in San Francisco. These clients include:
Fort Ticonderoga
- a historic fort originally built in 1755, "Fort Ti" was at one point controlled by the French, the British, and then the United States. Today, it is run as a living museum that welcomes tens of thousands of visitors annually.
Champlain National Bank
- is a local community bank with offices in 9 north country towns including Plattsburgh and Lake Placid.
Essex Farm
&
Essex Farm Institute
- Essex Farm is a 1,100 acre diversified farm that offers a year round CSA Membership with weekly on farm pick up and direct door-to-door delivery.
CV Wireless
- uses an advanced high-speed wireless network coupled with a smart proprietary radio to deliver broad band Internet access to rural subscribers who don't have affordable access via DSL or cable.
Dr. Josh Schwartzberg
has two offices - a Willsboro, New York clinic that provides primary care to local residents and a Burlington, Vermont clinic,
Champlain Medical Urgent Care
, that offers urgent care, occupational medicine, and FAA flight physicals.
NCSPCA
- The North Country Society for the Prevention of Cruelty to Animals provides refuge for cats and dogs who have been surrendered, abandoned or abused. It is headquartered in the county seat Elizabethtown.
Kristin Kimball
- the acclaimed author of "The Dirty Life" also writes for O Magazine, Vogue, and Gourmet Live.
St. John's Episcopal Church
- a diverse and welcoming church located in Essex, New York.
Colin Wells
- is an author who wrote  "A Brief History of History" and "Sailing from Byzantium." His writing also appears in the World Affairs Journal, Arion, and the New English Review. Why does the Adirondack | San Francisco connection exist? CEO Alex Paine grew up in the area and graduated from the University of Vermont just across Lake Champlain in Burlington. Alex and WebSight Design co-founder Joe Conte met each other at summer camp in Willsboro, New York in the 1970s. Their connection to the area and its residents naturally led to many business relationships later in life.