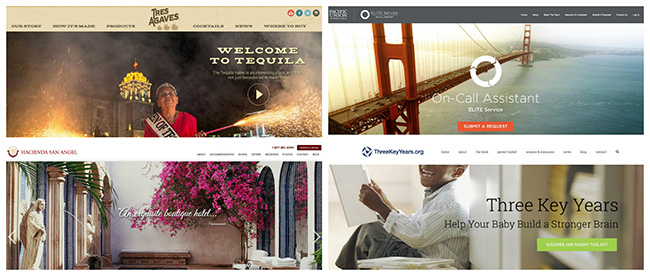 ---
It has been a wonderful 2017 at WebSight Design (WSD),our Digital Marketing, Development, and Graphic Design departments stayed very busy and on top of their industries. Here are our top ten highlights from 2017.
In 2017, WSD launched various satellite websites for our long-time client Pacific Union: Pacific Union has partnered with Nest to give its real estate professionals and clients an additional competitive edge. WSD also launched a payment portal for agents, a transaction database for tracking client demographics, and a database of all real estate transactions for Pacific Union territories. Oncall.pacunion.com allows agents to find licenced assistants on demand.
WSD built out dozens of custom landing pages for Pacific Union's Google pay per click campaigns and re-launched marketing in the Google Display Network.
For our Client George Halvorson, WSD launched the Three Key Years Campaign and a beta Spanish site. WSD continues to support Mr. Halvorson in all his marketing efforts.
In the Summer of 2017, WSD launched a new website for Gracyn Robinson. Gracyn's interior design work has been featured in publications including This Old House, The Boston Globe, Kitchen & Bath, Better Homes & Gardens, and Elle Decor. Gracyn Robinson's website redesign was part of overall brand update. The new website highlights Gracyn's consulting business and her commercial and residential design portfolio.
In the Fall, WSD launched KevinWakelin.com. This project started with the client's signature color bar and took off from there. Each property detail page is a property mini-site in itself. Kevin's site also has some CSS that calls a different rollover color on the property listings.
Hacienda San Angel, is one of the world's most elegant and romantic boutique luxury hotels in Puerto Vallarta. This fully mobile website features cursive script font that is underused in the online space. The drop-shadowing and text overlays are done with CSS.
LagunaHayes is a modern five-story residence in Hayes Valley San Francisco. The website build was a collaboration with MINT. Mint did the design and WSD did the the website development and baseline SEO. Lagunahayes.com is a horizontally scrolling fully responsive site.
Throughout the year, we worked with Tres Agaves on their website redesign and re-branding. You can read all about the project here. We are currently working with Tres Agaves on a comprehensive SEO and PPC industry review, keyword recommendations, and refining the designs of the site based on our initial findings and the website's performance.
For our digital marketing client, Channel Lumber, our work included ongoing content creation, for the projects module and blog.
This year we also converted Culinary Excellence's former Wix website site to a custom-developed and designed website. After the site launched, Culinary Excellence signed on for ongoing digital marketing services.