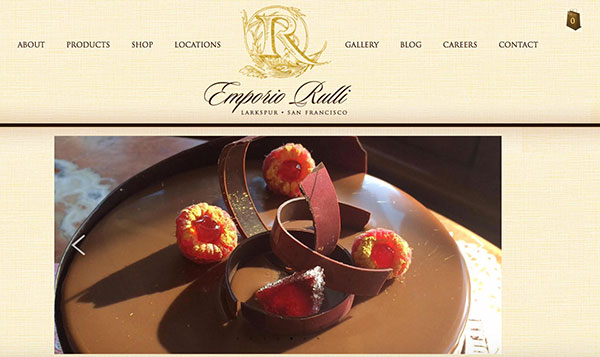 ---
Emporio Rulli is a quaint caffè, wine bar and pasticceria. Rulli has shops in Larkspur and San Francisco, California. WebSight Design (WSD) launched Rulli's redesigned website in the spring of 2018. Rulli's previous website was an out of the box shopping cart solution that did not fit the company's needs. Rulli partnered with WSD to develop a custom website solution.

WSD incorporated Emporio Rulli's gold-accented branding in to the website's design. The text is large for ease of reading.

Users who are window shopping can browse image galleries, in a non-store environment, via the 

Products

 section of the website.  

Videos

on the website provide a contemporary and entertaining way to learn about the caffè and Chef Rulli.

The programming includes a custom e-Commerce pick up ordering system that allows customers to order pastries and select a pick up time for the store in Larkspur. The site administrator provides a pick up invoice that is printed at Rulli's bakery. The printed invoice replaces the handwritten pick up sheet Rulli was previously using. The e-Commerce solution also enables customers to order Gary Rulli's world-famous pastries and have them shipped to anywhere in the country.