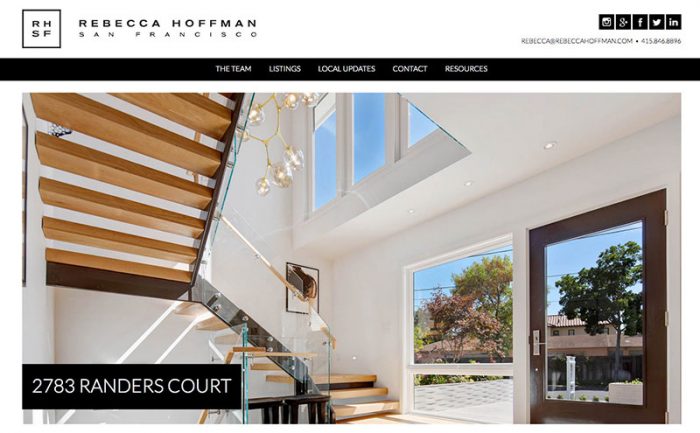 In February 2019, WebSight Design (WSD) launched a new website for Compass real estate agent Rebecca Hoffman.
Ranked in the Top 1% of San Francisco real estate agents, Rebecca has a solid understanding of the nuances and complexities of San Francisco's neighborhoods. Her expertise has led to repeated home sales at record prices.
Rebecca's previous website was built on the Gutensite platform; she came to WSD seeking a custom Content Management System (CMS) that met her objectives. WSD deployed the Real Estate Basecode for Rebecca's new website.
Rebecca wanted to align her existing logo with Compass' branding. On the homepage, the hero image is a featured property. The image is easy to change in the CMS with the click of a checkbox, and links to the property detail page.
Rebecca's website utilizes WSD's Tile and Banner Managers. The managers enable Rebecca to update photos and testimonials — all via the CMS.
The property detail pages are akin to mini property websites. These pages are rich with custom design features and support a video embed.