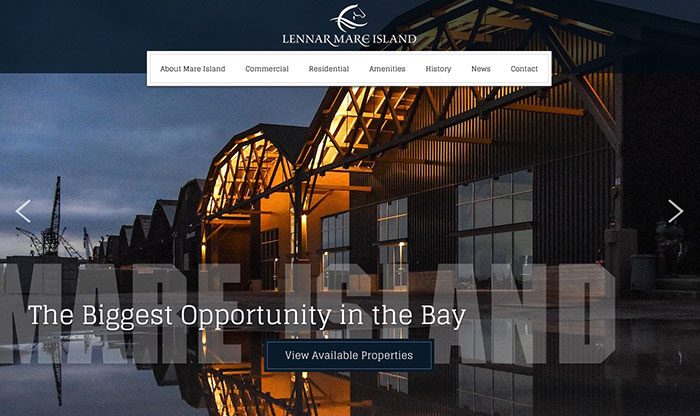 In the winter of 2019, WebSight Design (WSD) launched a new website for Lennar Mare Island.
Lennar is a leading global real estate development corporation; in 2018 Lennar's net earnings exceeded $11 billion. The project came to WSD via organic lead generation.
This website build was heavily focused on design. The homepage utilizes WSD's Tile Manager. The Tile Manager enables the client to edit and customize blocks of content via the website admin. The content blocks are pre-styled based on sort order — the first tile will always have the text on the left and a photo on the right. The second and third tiles have photos with captions and links beneath.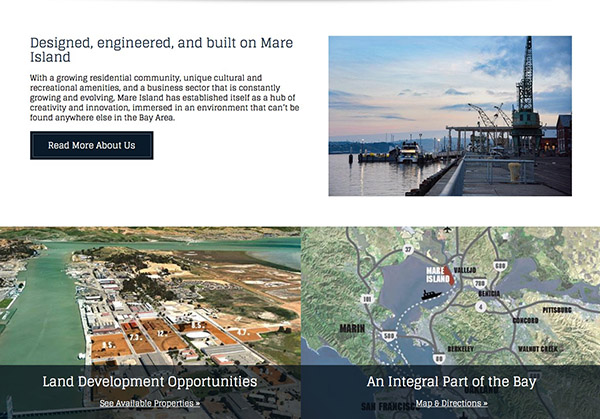 Each subpage has a feature image and the option to add text. WSD's Subpage Manager makes is easy to refresh photographs and messaging. In the News section, the feature image is set to dynamically display the image from the most recent blog post.
The History page is the most user-interactive page on the website; this page contains a before/after photo section with a sliding bar and a historical timeline. Users can click on any 25-year block of time for a glimpse into Mare Island's rich history.