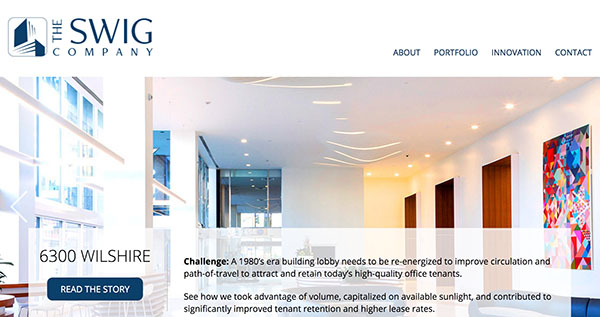 In December 2018, WebSight Design (WSD) launched a new website for The Swig Company. The Swig Company, LLC is a privately owned real estate investor based in San Francisco with a venerable 80-year history of development, partnership and management of commercial properties in major U.S. markets.
The primary objective for this project was to move swigco.com from WordPress to a more secure and flexible platform. The Swig Company liked its existing website design so WSD didn't alter too much in that regard. However, the previous website didn't translate well to mobile, and lacked brand consistency — it had too many fonts and an inconsistent color palette. The new site design is rooted in the brand guidelines, and is fully mobile responsive.
WSD also developed themillsbuilding.com and 633folsom.com on behalf of the Swig Company and there are a few more website development projects in the works!