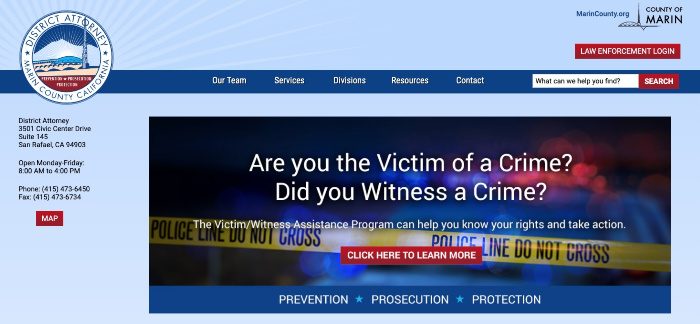 In June of 2019, WebSight Design launched a website for the Marin Country District Attorney's office.
The District Attorney's previous site was folded into marincounty.org. For the new site, the District Attorney wanted to have its own web presence. The new site is geared towards helping victims and their families.
This new website was funded, in part, by a grant from the Victim Witness Assistance Program. The program wanted to provide the tools and resources for victims to quickly and easily find resources and help.
Project Highlights:
Migration of content from the marincounty.org site
A new login area for law enforcement. Marin police officers carry physical visor cards to advise on law enforcement protocol. The new website will allow officers to login via the portal and see the most updated and correct procedures for a variety of situations.
There is also a new reference section for law enforcement to find information from the District Attorney.
This website launch coincides with the newly elected District Attorney, Lori Frugoli. Lori is a lifelong resident of Marin County and is honored to serve as Marin's District Attorney. Lori looks forward to bringing her lifetime of experience to keeping Marin safe, running an efficient office and Connecting the Community to the Courthouse. Through community engagement, Lori's goal is to demystify the District Attorney's Role in the Justice System.