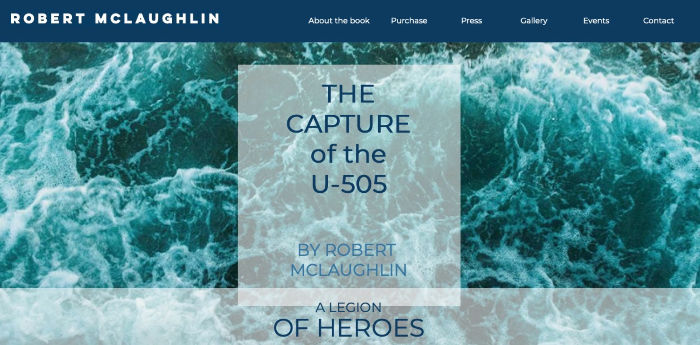 In September 2019, WebSight Design (WSD) launched www.captureofu505.com, a web site designed to promote The Capture of the U-505 a Legion of Heroes, a book authored by Robert McLaughlin. Robert served in the United States Marine Corps from 1955 to 1957.
The capture of the German U-505 was one of the most harrowing tales to emerge from the Battle of the Atlantic in World War II. Robert McLaughlin's book follows Captain Daniel V. Gallery, USN, a master of anti-submarine warfare, in his commands of PBY Squadrons VP-73, VP-84 and Hunter Killer Task Group 22.3. Gallery was determined to capture a German U-Boat on the surface and salvage the intelligence prizes. The U-505 was forced to the surface by HKTG 22.3 on June 4,1944 and captured.
Robert was referred to WSD by Mark McLaughlin, a long time WSD client and friend.
Robert had originally built his site on the Wix platform but was running into a number of "Wix can't do that" challenges so he reached out to WebSight Design. WSD was able to quickly and affordably redesign a new web site. WSD integrated Google Analytics and Google Search Console. WSD also provided a mobile friendly design and built a comprehensive but easy-to-use Content Management System.
You can read about The Capture of the U-505 a Legion of Heroes here, or purchase the book on Amazon.com.