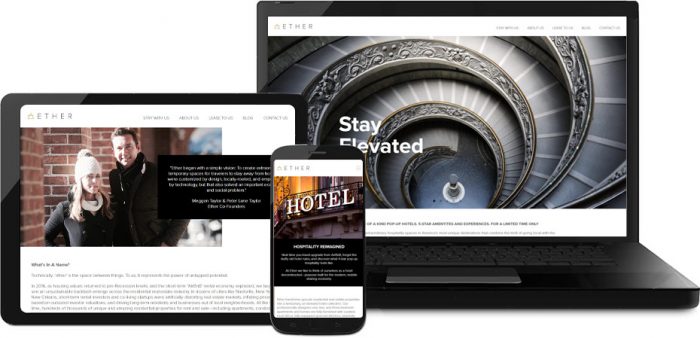 In November 2019, WebSight Design (WSD) launched a new website for https://www.stayether.com.
Ether is the brainchild of co-founders Meggen Taylor & Peter Lane Taylor. Meggen and Peter have been building and running small businesses based on innovative thinking, relentless ideation, cutting-edge brand building, creative storytelling, and content creation for more than two decades.
Ether transforms upscale residential real estate properties into a temporary, on-demand hotel collection. Their professionally designed one, two, and three bedroom apartments and homes are fully-furnished with curated, local décor, fully-equipped gourmet kitchens, tastefully designed living spaces, smart-home technology, luxury hotel-style amenities, and exclusive retail products from leading consumer brands.
The website is fairly simple in functionality. The clean, elegant design mirrors the sophistication Ether is bringing to short-term rentals. In the coming months, the website will include an online booking engine for people to make their reservations online.