Through the sheer force of her extraordinary talent, bold vision, and larger-than-life personality, pop singer Bleona has achieved international stardom and emerged as a global icon. From her first performance in Albania as a teen, critics spotlighted her powerful vocals and charmingly brash persona. Bleona has sold millions of albums, won multiple music awards, graced dozens of magazine covers, and performed for hundreds of millions of fans — all while operating as a completely independent recording artist and actress.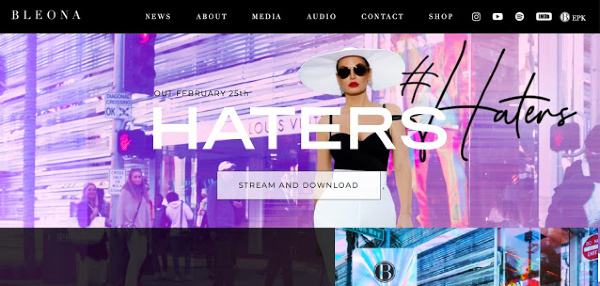 In January 2020, WebSight Design (WSD) launched www.bleona.com. Bleona was referred to WSD by Meat and Potatoes. Meat and Potatoes is an award-winning creative studio in the Los Angeles market.
In February 2018, WebSight Design launched a newly designed website for Meat and Potatoes. WSD and Meat and Potatoes have also collaborated on websites for Sammy Hagar and the former Hard Rock Hotel and Casino.
For Bleona's website, a great deal of attention was given to how well the mobile layout translated from the desktop design. WSD always goes that extra mile to deliver a website with a solid ux and to make sure that the layouts are working precisely to the client's needs.