The McLaughlin Brand
Since its onset and through its many iterations, WebSight Design (WSD) has been integral to developing the McLaughlin brand's online presence and authority. Both Tracy and Mark have worked closely with the WSD development, design and marketing teams on TracyMcLaughlin.com, Pacific Union and McLaughlin Ventures.
The newest addition to the suite is whitneymclaughlin.com that launched in December 2022.
The vision for Whitney's site was to establish her identity as a leading agent in her own right and also leverage the legacy of her parents.
About Whitney
Whitney is a rising star agent in Aspen and the Roaring Fork Valley, Colorado. Working closely with the Tracy McLaughlin Team, Whitney has years of hands-on experience with pre-listing renovations, staging, and design, and in her family tradition has become a trusted expert in creating equity for her clients.
Whitney's mission is to provide her buyers and sellers a competitive edge in the market. With magazine worthy marketing and branding, she is producing unrivaled results. Her knowledge and experience provide her clients with a foundation of trust as they navigate important lifestyle and investment decisions.
A Cohesive Design Presentation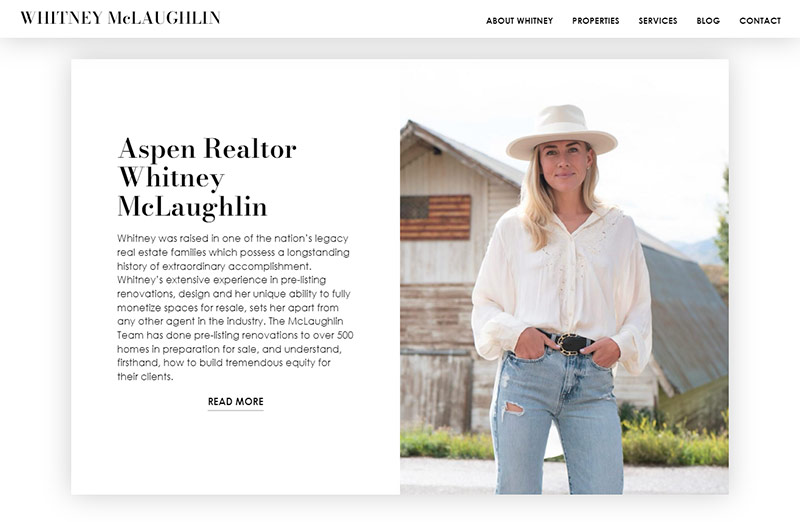 The fundamental design and functionality echo TracyMcLaughlin.com, with intuitive navigation highlighting Whitney's properties, services, and expertise.
Through its design, the website transcribes Whitney's love and appreciation of Aspen as seen with a local's eye and establishes confidence in her business acumen. The site conveys that Aspen is not simply a real estate market, it is a lifestyle.