Approximately 280 million people in the world that struggle with depression, it is estimated that 10%–30% do not improve with traditional treatments. In recent years, and backed by scientific research, Ketamine Therapy has become a viable and increasingly mainstream treatment for depression and anxiety disorders.
Following the Covid-19 pandemic, Kristen Dill stepped away from years of working in a hospital setting to pursue a career focused on helping others heal from mental health conditions and trauma. She studied with the esteemed Dr. Gabor Maté and then founded Frequency Healing as a clinic to offer ketamine infusions to treat depression and other mental illnesses that have been resistant to more traditional therapies. Frequency Healing approached WebSight Design (WSD) in Early 2023 to design and develop a new website.
Kristin wanted Frequency Healing's website and her brand's to to be calm, cool, fresh, and natural. She sent us photos of the beautiful Oregon coast that she took herself.
The absence of stock photos lends authentic, caring elements to Frequency Healing's content that might be considered challenging or sensitive.
The website design uses gentle blues and greens. Purples and bright teal colors play off the Frequency Healing logo that the client provided, as well.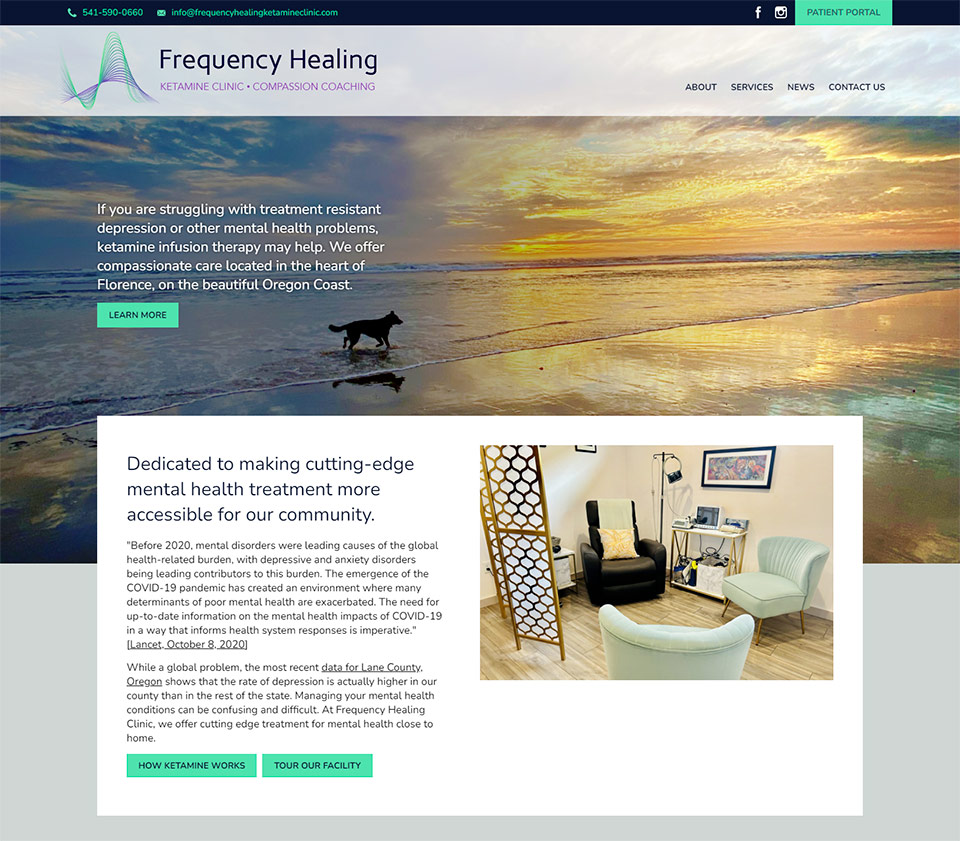 The website is built with room to grow. The tiles manager on the home page will allow Frequency Healing to add multiple blocks of content as the business grows. The customized Content Management System also includes Services and News modules.
Frequency Healing's website launched in June 2023.